Meet the Veterinary Clinic Staff (Bowling Green, KY)
Dr. Trace Gorham
was raised on a farm in Athens, Georgia.  He did his undergraduate work at Auburn University graduating with a degree in Wildlife Science.  He was accepted into Auburn's College of Veterinary Medicine in the fall of 1993,  graduating in 1997 with a Doctor of Veterinary Medicine degree.  He then married Dr. Nicole (Burden) and moved to Collierville, Tennessee where he practiced for three years at Collierville Animal Clinic.  He and Dr. Nicole moved to Bowling Green and purchased Alpine Pet Care Center in July 2000.
Dr. Nicole Gorham
was raised in Lewisport, Kentucky.  She did her undergraduate work at Owensboro Community College and Western Kentucky University.  She was accepted into Auburn University's College of Veterinary Medicine in the fall of 1993 and graduated in 1997 with a Doctor of Veterinary Medicine degree.  After moving to Collierville, Dr. Nicole practiced small animal medicine at Central Animal Hospital in Memphis.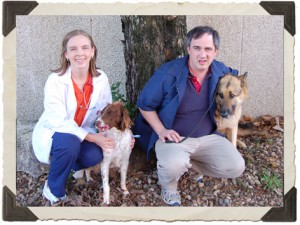 Drs. Trace and Nicole are both members of the American Veterinary Medical Association, the Kentucky Veterinary Medical Association, and the South Central Kentucky Veterinary Medical Association, Rich Pond Baptist Church, and the Bowling Green Area Chamber of Commerce.  Dr. Nicole is also a member of the American Association of Feline Practitioners and the American Spaniel Club.  They are both involved with helping with the 4-H career shadowing program.
The Drs. have one child, Hannah, born in 2012 and multiple four-legged children.  They live on a small farm with four Quarter horses (Lily, Twilight, Gypsy, Minnie), a miniature horse (Geronimo), a German Shepherd(Ellie), a Labrador Retriever (Eve), a Cocker Spaniel ( Grace) and two cats (Petunia and Pixie).  Dr. Nicole previously enjoyed competing on Lily in barrel and pole bending events but now just enjoys the occasional leisurely horseback ride.  Drs. Trace and Nicole both have enjoyed competing in AKC events since 2002.  Dr. Nicole competed with a talented Cocker Spaniel (Ashley) in AKC agility, obedience, tracking and field events.  Ashley received the prestigious American Spaniel Club Versatility Award and finished her career with multiple AKC titles including MACH2, TDX, VCD2, SH, and XF all before her passing in January 2015.  Dr. Trace competed with a very talented German Shepherd (Chief) in agility obtaining his MACH2 shortly before his passing in 2012.  Chief was a rescue abandoned at Alpine at the age of ten months.  Rocket has also competed in agility and barn hunt competitions.   Cam is a big pet rescued at the age of three years with heartworms from a shelter in Alabama.  The doctors also enjoy many outdoor activities, watching sports, spending time with Hannah and running short road races.  Dr. Nicole also enjoys participating in road bike riding and sprint triathlons.  Dr. Trace enjoys singing in the church choir and fishing.
Veterinary Clinic Technicians:
Tammie Perkins
is a veterinary assistant and has been with Alpine the second time since August 2014, this is in addition to 1.5 years of previous employment with Alpine prior to 2010.  Tammie has a great love for animals and shares her home with a Siberian Husky (Aries ) and a Cocker Spaniel  (Dudley).  Tammie is happy to speak with clients regarding the health of their pets.  At Alpine she serves many areas including fill-in receptionist, veterinary assistant, surgical assistant, kennel worker, and bather.  Tammie provides excellent patient care for our in-house patients.
Veterinary Clinic Receptionist: