Dog Kennels and Dog Grooming Services Bowling Green, KY
Dog and Cat Boarding:
We offer boarding for any animal with proof of current vaccinations/titers and with a negative fecal.  We have a large fenced play area for our canine boarders and offer extended playtimes in the area for an additional fee.  We also have large outdoor runs for all boarding dogs during the day.  Feline boarding is in a separate room with a door to decrease noise levels and therefore anxiety in your furry feline family member.  All animals are fed Science Diet food unless another food is provided by the owner.  The staff caring for your pet includes trained technicians, not just kennel help.  So your pet will receive prompt medical attention should the need arise.  Feel free to come visit your pet or call and check on it at any time during their stay.
Dog Grooming / Cat Grooming:
We offer grooming for all pets with proof of current vaccinations/titers.  Grooming is performed Monday through Friday only and an appointment is necessary.  Drop-offs for grooming are between 7am-9am.  We also offer sedation for grooming if necessary.
Mark Duffy
joined Alpine Pet Care Center in July 2015 as a full-time groomer.  Mark provides his professional services  for dogs and cats by appointment only Mon-Fri.  When your pet is groomed by Mark, it will receive a haircut, bath, brush-out, nail trim, and the anal glands will be expressed.  Your pet will be handled with care as Mark is a very patient, great groomer with excellent skills.  Mark will also notify the staff doctors should your pet have any noticeable parasites or skin/ear problems during the visit.  All pets being groomed must be current on all vaccinations including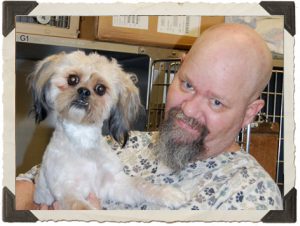 distemper/parvo, rabies, and a bordetella vaccination for dogs and a FVRCP and rabies vaccination for cats.  Every effort will be made to groom your pet without sedation, however, it is too stressful for some patients and they are better handled with sedation.  In the event that sedation is necessary for your pet you will either be contacted via phone prior to the procedure or required to sign a release form when dropping off your pet giving us permission to perform the sedation.  We ask that all pets to be groomed by Mark be dropped off no later than 8am on the day of their appointment.
If your pet needs a bath and brush-out only and does not require a haircut, please call and schedule a bath only appointment with one of our veterinary assistants.  This service is performed in the mornings only Mon-Fri.